TimesDaily Prep Male Athlete of the Year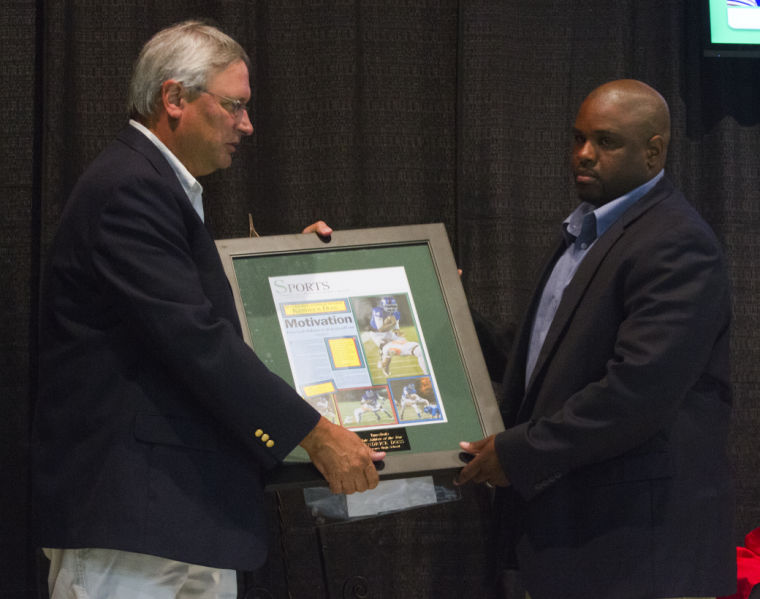 Kendrick Doss, from Florence High school is the TimesDaily Male Prep Athlete of the Year. His award was given by TimesDaily Sports Editor Greg Dewalt to new head coach J.B. Wallace at the Sports Banquet held at the Florence-Lauderdale Coliseum.
---
Keaton Anderson to join the Crimson Tide.
http://www.timesdaily.com/sports/article_f82d61e2-e85e-11e3-a215-0017a43b2370.html
---
Falcons Hire Jason Wallace as New Head Football Coach
In 2013 as defensive coordinator for the Falcons, Coach Wallace led the defense to a 9-4 record. For the first time in school history, Florence reached the third round of the Alabama High School Playoffs (eliminated by the eventual 6A champion Hoover Bucs in a very close game).
The starting defense gave up only 15.8 points per game. Under Coach Wallace, the defense held two of the state's leading scoring offenses in 6A (Clay-Chalkville and Hoover) to an average of 18 points below their season average.
In 2012, Coach Wallace led a defense with six sophomore starters to the state playoffs for the first time in two years. The starting defense gave up only 17.14 points per game. Florence finished second in the region for fewest opponent points allowed. They defeated two top five ranked teams and scored two touchdowns on defense with a total of 26 defensive takeaways.
One member of the Falcon defense was selected to the All-State team, and another member of the defensive squad was selected to play in the Alabama/Mississippi All-star game.
Prior to coming to Florence, Coach Wallace served as defensive coordinator and linebacker coach for Prattville High School from 2005-2011 where he was a part of four state championships.
---
Florence High School yielded a fantastic crop of future college football players on yesterday's National College Football Signing Day. Proud families; coaches; administrators and teachers; students and a huge crowd of others watched as eleven players signed letters of intent. The students and their schools are: Daniel Keith, Arkansas State, Offensive Line; Drake Tyler, Cumberland, Offensive Line; Jalen Ragland, Faulkner University, Wide Receiver; Cole Hardin, Vanderbilt, Offensive Line; Quade Alexander, Southern Miss, Defensive Back; Liles Hillhouse, UNA, Wide Receiver; Isaac Dillard, Tennessee Tech, Wide Receiver; D. J. Armstead, Arkansas State, Defensive Back; Wil Lovelace, UNA, Long Snapper; and Walter Brady, Missouri, Offensive Linebacker. Kendrick Doss, Ole Miss, Quarterback is not pictured. Kendrick graduated in December and is already on campus at Ole Miss. Pictured with the athletes is Athletic Director, Byron Graham. Congratulations to these students and to their families!
---
Each Season the Alabama Sports Writers Association names Mr. Football for the state.
The award is given to the most outstanding football player in Alabama. FHS quarterback Kendrick Doss was selected as a finalist for both Mr. Football and for outstanding 6A Back.
Kendrick attended a luncheon to honor all Mr. Football nominees today in Montgomery accompanied by FCS Athletic Director Byron Graham, Quarterback Coach Bo Culver, Offensive Coordinator Mike Hand, and Head Football Coach Jamey DuBose. While not the ultimate winner, Kendrick is the first Florence High School athlete to be nominated for the award. In addition to his outstanding skills on the athletic field, Kendrick's hard work in his academic career enabled him to graduate in December--a semester early. This will allow him to begin his college career this spring.
Congratulations to Kendrick, his coaches, and the entire FCS athletic program!
---
HARDIN COMMITS TO VANDERBILT

Florence Falcon Cole Hardin has made a verbal commitment to play football for Vanderbilt University.
Pictured are: Vandy head coach James Franklin, Cole, and Florence Athletic Director Byron Graham.
---
FALCONS FALL TO HOOVER IN QUARTERFINALS
FLORENCE, Alabama -- The 28th straight Hoover victory was not like any of the others. The Bucs set a new standard for consecutive victories, but needed a long exhale afterward.
Hoover got the first game-winning drive of junior quarterback Jack Hutcheson's career to escape Tom Braly Municipal Stadium with a 22-21 triumph against Florence in the Alabama High School Athletic Association Class 6A quarterfinals.
Hoover coach Josh Niblett said this week his boys would face some inconveniences along the way if it wanted to repeat as Class 6A champions. A Florence team that had won two playoff games in the same season for the first time in program history proved to be a most worthy challenger.
"I don't know what else to say but to God be the glory," Niblett said afterward. "We are blessed to move on to the next round. Hey, on the road we've got to find a way to win and what a great environment to play in tonight."
Hutcheson connected with junior Alex Elam for a 9-yard touchdown pass with 6:08 left to play in the fourth quarter for the winning margin. That capped a drive where the Bucs converted two fourth downs. It was a corner ball that Bucs had set up on a three-over-three coverage on one side of their formation.
"We knew it was going to be there so we kind of game planned that all week," Elam said. "It was there so we were able to hit the big play."
Elam caught another pass on that series from Hutcheson for a 6-yard gain on a 4th-and-4 snap. Hutcheson also found junior running back Bradrick Shaw with a clever screen pass call on a snap that originated from the Florence 9.
Red zone screen passes are as uncommon as 28-game win streaks in big-boy Class 6A football, but it worked.
Hutcheson found Shaw on that call for a 7-yard gain. That set up Elam's touchdown to bring the Bucs back from a 21-16 deficit. It left 6:08 on the board for the Hoover defense to snuff out the Falcons.
The Buc defenders only allowed one first down the rest of the way. That came on a final hook-and-lateral play at midfield that went for a 30-yard gain as time expired.
That level of drama was something the defending Class 6A champions had not experienced of late. Hoover beat Colquitt County by a 24-10 margin in the opener this year. The Bucs also endured Vestavia Hills this year and came away with a 17-7 win.
Those were hard-fought games, but the close call on Friday night was the first time that was of those 28 straight wins came by less than 10 points.
Hoover (13-0) and Vestavia Hills (11-2) will meet again next Friday night at the Hoover Met in the Class 6A semifinals.
Florence senior quarterback Kendrick Doss made a night's worth of plays against the Bucs to show that maybe he could even play quarterback in the right system in the SEC. The Ole Miss commitment showed why rushing for two touchdowns and throwing for another against a Hoover defense that had not allowed more than two touchdowns to an opponent all season.
"It was a great game to watch," Florence coach Jamey Dubose said. "It was everything it was billed out to be. I don't know who the best team is. I am going to say that. I know it may make some people upset, but tonight we played toe-to-toe with them."
Doss bowled his way in on a 3-yard scoring on the first Florence possession of the game to cap a 9-play drive. It came on a fourth down snap and was the second fourth-down conversion of that opening series. That answered a Hoover touchdown by junior running back Bradrick Shaw that had given the Bucs an early 6-0 lead.
Doss scored again on an 8-yard run to open the second half to hand Florence a 14-9 lead.
But Hutcheson responded to that challenge with a 52-yard touchdown strike to classmate Justin Johnson with 7:15 left in the third quarter. That gave the Bucs a 16-14 advantage.
The Falcon quarterback had another answer as he connected with William Barnett for an 89-yard touchdown strike that took back the lead by a 21-16 margin.
Doss had just 84 passing yards at that point, but doubled his total with that flick of the wrist to find a streaking Barnett who had gotten past the Buc safeties.
He completed 11 of his 23 passes for 189 yards on the night. He threw that touchdown, but also a costly interception that sophomore cornerback P.J. Hall snagged at his own 38 with 5:40 left to play in the game.
The future Ole Miss Rebel also added 60 yards on 18 rush attempts.
Shaw was the Hoover workhorse with his 34 carries for 106 yards. Hutcheson missed on five of his first eight attempts, but rallied the Bucs with four consecutive completions in the fourth quarter.
He finished 7 of 12 through the air for 101 yards.
Hoover's Hunter Schmith had converted a 29-yard field goal with 6:06 left in the first half for a 9-7 lead at the break. Dubose pointed to a missed Florence field goal as the difference.
"I'm still confident," Dubose said. "I'd like to tee it up and play it again. I like my chances. You know you look at the scoreboard and they hit a field goal and we didn't."
Dubose was either an offensive coordinator or head coach at Prattville for all those clashes with the Bucs at the Super 6 this century.
"I told our kids all week every game I have had with Hoover going back to the state championships have come down to special teams," he said.
---
Congratulations to Florence Falcons Kendrick Doss, Cole Hardin, and Keaton Anderson on their selection as members of the Al.com Super All-State Football Team! http://highschoolsports.al.com/news/article/1703692622299362967/meet-the-2013-alcom-super-all-state-football-team-photos/#/19
Congratulations also to Kendrick Doss and Cole Hardin for being named to the Alabama Sports Writers Association's all-state football team! Daniel Keith and Keaton Anderson received honorable mention for the team. We are proud of our Falcons!
http://www.timesdaily.com/sports/high_school/article_cdf881f4-6a9b-11e3-83f3-001a4bcf6878.html?mode=jqm
---
Alabama Squad Named For 2013 All-Star Game
Goes For 6th Straight Win Over Mississippi In Montgomery Dec. 14
Congratulations to three Florence Falcons who have been selected for the 2013 Alabama High School All-Star Football team slated to take on Mississippi in the 27th annual Alabama-Mississippi All-Star Game Dec. 14. Coach Jamey DuBose will be an assistant coach for the game. Read the complete roster and information at the link below.
http://www.ahsaa.com/AHSAA/News/AlabamaAllStarFootballSquadAnnounced/tabid/4511/Default.aspx
---
DOSS NAMED HUNTSVILLE/TENNESSEE VALLEY PLAYER OF THE WEEK
HUNTSVILLE, Alabama
– Florence senior Kendrick Doss delivered when it counted most.
The quarterback threw a game-winning 39-yard touchdown pass with 23 seconds to go in regulation to beat Clay-Chalkville 37-30. It capped a strong performance that included 257 passing yards, two more TD passes (36 and 53 yards), and 99 yards rushing and a 5-yard TD.
For his performance, Doss is this week's Huntsville/Tennessee Valley Player of the Week award. He garnered 42 percent of the vote in an online poll at al.com/highschool that featured more than 12,000 votes.